The University Council
Massey University's governing body is called the University Council. Council members include lay, academic and student members who are responsible for overseeing the management and control of the affairs, concerns and property of the University. Its Chair, and ceremonial head of the University, is the Chancellor, elected by Council from within its ranks.
On this page:
Schedule of Council and Committee Meetings
The scheduled dates are for meetings of the Council and its principal Committees for 2021 and 2022. The dates, times, and venues may be changed on occasion. Please contact the Governance Advisor, Office of Governance and Assurance to confirm meeting date, time and venue if needed.
Download or print a copy of the Council and Committee Meeting Schedule for 2021 and 2022, including dates for graduation, from the link below.
Council and Committee meeting schedule (224 KB)
Back to top
Council meeting papers
Council meeting papers are available for download or print in PDF format.
Parties may request copies of documents as per the Official Information Act 1982 and Local Government Official Information and Meetings Act 1987 by contacting the Governance Advisor, Office of Governance and Assurance. A small charge for photocopying may apply.
Back to top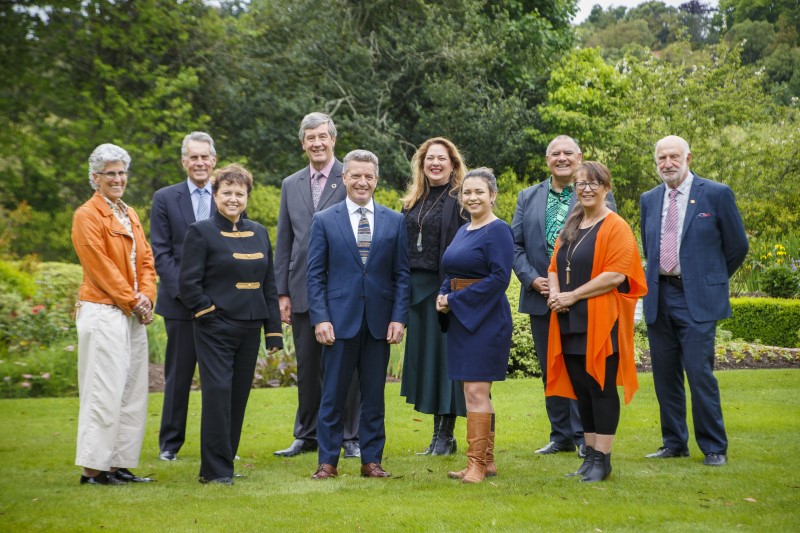 Front Row: Vice-Chancellor, Professor Jan Thomas; Chancellor, Michael Ahie; Ngahuia Kirton; Oriana Paewai
Back Row: Professor Sarah Leberman; Ian Marshall; Alistair Davis; Tina Wilson; Nigel Barker; Colin Harvey
Absent: Pro-Chancellor, Ben Vanderkolk and Traci Houpapa
University Council members

Chancellor
Pro Chancellor
Mr Ben Vanderkolk LLB Cant
Vice-Chancellor
Professor Jan Thomas BSc Murd., BVMS Murd., MVS Melb., PhD Murd., MACVs, FAICD, FAIM
Members appointed by the Minister of Education
Mr Michael Ahie BBS (Hons)
Ross Buckley BBS (Massey) FCPA
Angela Hauk-Willis MA (Freiburg im Breisgau)
Ms Oriana Paewai
Elected permanent member of academic staff
Professor Sarah Leberman MNZM, BA (Cambridge) UK, MA (Applied), PhD (VUW), CMInstD
Elected permanent member of professional staff
Mr Nigel Barker BBS, CertATchg, Grad IFE
Member elected by Massey University students
Members appointed by Council on nomination of Vice-Chancellor
Mr Alistair Davis LLB BCA
Ms Traci Houpapa MNZM MBA (Massey)
Mr Ian Marshall BCom (Natal) CAANZ
Mr Ben Vanderkolk LLB Cant
Back to top
Massey University Council Constitution 2015
The Constitution of Massey University Council Notice 2015 was approved by the Minister of Tertiary Education and gazetted on 6 August 2015.
Back to top
Page authorised by Assistant Vice-Chancellor, External Relations
Last updated on Friday 25 February 2022
Council News
Professor Jan Thomas reappointed as Vice-Chancellor for second term
Tuesday 1 June 2021
Massey University's Council today confirmed the reappointment of Professor Jan Thomas as Vice-Chancellor for a second term.
Student member of Massey Council successfully re-elected
Wednesday 25 November 2020
Ngahuia Kirton has maintained her position as the student member on the Massey University Council.